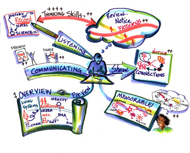 This module focuses on how to unveil the interests and aptitudes of students, in order to plan and implement personalized educational paths and guidance services to valorise these talents through curricular and extracurricular activities and motivate the students to stay at school.
Capitalise on pupils interests and skills

Chapter 1: Introduction
Multiple intelligences + Online Resources
These intelligences (or competencies) relate to a person's unique aptitude set of capabilities and ways they might prefer to demonstrate intellectual abilities. It was Howard Gardner who defined them in his famous Multiple Intelligences:

1. Verbal- linguistic intelligence (well-developed verbal skills and sensitivity to the sounds, meanings and rhythms of words)
2. Logical-mathematical intelligence (ability to think conceptually and abstractly, and capacity to discern logical and numerical patterns)
3. Spatial-visual intelligence (capacity to think in images and pictures, to visualize accurately and abstractly)
4. Bodily –kinesthetic intelligence (ability to control one's body movements and to handle objects skillfully)
5. Musical intelligences (ability to produce and appreciate rhythm, pitch and timber)
6. Interpersonal intelligence (capacity to detect and respond appropriately to the moods, motivations and desires of others)
7. Intrapersonal (capacity to be self-aware and in tune with inner feelings, values, beliefs and thinking processes)
8. Naturalist intelligence (ability to recognize and categorize plants, animals and other objects in nature)
9. Existential intelligence (sensitivity a nd capacity to tackle deep questions about human existence such as, What is the meaning of life? Why do we die? How did we get here?

People have different strengths and intelligences. For example, students who are "interviewed" as a means to gain access to a course may be mis-labeled as being less than desirable because of inappropriate assessment (poorly written interview questions, bias toward a perceived "perfect student," and other narrow criteria).

"In life, we need people who collectively are good at different things. A well-balanced world, and well-balanced organizations and teams, are Necessarily comprised of people who possess different mixtures of intelligences. This gives that group a fuller collective capacity than a group of identical able specialists". Gardner's multiple intelligences theory can be used for curriculum development, planning instruction, selection of course activities, and related assessment
Online Resources


Comments on this section
In order to post a comment it is compulsory to be logged in.
Date: 2016.09.02
Posted by Christine CLOES - Belgique
The strength of this module is to gather (and remind) important theoretical principles (as learning styles, multiple intelligences…) and practical advice to cultivate the students' talents and interests,for example planning extracurricular activities, developing entrepreneurial experiences at school, etc.
Date: 2016.08.03
Posted by M.J. Romero - Spain
Interesting collection of online sources. Very complete and with different approaches.
Date: 2016.07.10
Posted by Liliana Cannone - Italy
The most interesting and functional section for the type of students F.Datini IPS is the "SKILL & JOBS", to deepen the profile of the professionals and the levels of skills within the school.
Furthermore, the analysis of the job profiles of the different countries involved in the project highlights the actual demand in the labor market. It would be useful to have in the Italian language test to use them in school with our students. The clearly structured site, has a dress simple and straightforward graphics, and is quite simple to find the inserted content

Date: 2016.07.07
Posted by Rouquette-Salerno Laetitia - France
The modules are really interesting and relevant
Date: 2016.07.06
Posted by Cristina Farzi - Romania
The module focuses on how to unveil the interests and aptitudes of students in order to plan and implement personalized educational paths and guidance services which successfully valorise students' talents. As balancing theory and practice is one of the principles of this tool the second module starts from theoretical considerations on interests, aptitudes and key competences as well as school autonomy and learning styles, which are practically supported by useful hands-on curricular and extracurricular activities, teaching methods used to capitalize on students' interests and skills and an impressive collection of best practices, experiences, success stories as well as tips on how to use them in class. The chapter also highlights the important of parent involvement in children's development and success at school and in life.

Date: 2016.07.06
Posted by Elza Gheorghiu - Romania
The modules provide teachers and counsellors with invaluable online materials which can help them with:
- a conceptual and theoretical framework
- tools/ techniques to use
- activities to carry out
- examples of best practice
- case studies