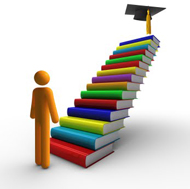 The module focuses on the psychological aspects to be addressed and taken into account to understand the pupils' personal aptitudes and characteristics, to identify those aspects that must be considered to personalize their education path, motivation to study and the risk factors that can lead to the decision of abandoning school.
Understanding pupils

Chapter 4 - Work opportunities during and after school
How to make the right choice integrating school and work, capitalizing skills and aptitudes?
Today many employers complain that the knowledge and skills of high schools graduates do not suit labour market demands. Taking into account quite high rates of youth unemployment, a need to prepare pupils for the future work life arises. There are several ways how to do it by integration of work competences development into school curriculum.

Knowledge should be applied in problems identification and solution manner. By doing this, pupils can transfer their knowledge to real life situations. It is very important, that theoretical knowledge would be oriented to practice.

Discussions with the profession representatives, entrepreneurs can help pupils to get know better different professions, pros and cons they possess, qualification and personal requirements. During the visits to enterprises, internships pupils can observe real working day with all the duties and responsibilities. Internships familiarize pupils with rituals and routines of the specific workplace.

Volunteering activities help pupils to gain such valuable general competences as responsibility, time management, communication, organizational ethics, and team working and other. It also allows them to get know themselves as employees better and get more aware of a career that best suits their personal features. Volunteering can familiarize pupils with work and give them a valuable opportunity to gain work experience.

Real work experience, though is hardly compatible with lesson schedules and is limited by children protection policies, sometimes can be an option for gaining work experience.

A variety of 'work experience', 'work tasters', 'work shadowing' and 'work visit' initiatives may be organized to help students develop insights into the world of work and their own occupational orientations. Meetings with the representatives of business companies, visits to the enterprises, discussions and interviews with successful entrepreneurs, employees and successful people also help to highlight the importance of completing school education for being successful at work and in life.
Online Resources


Comments on this section
In order to post a comment it is compulsory to be logged in.
Date: 2016.09.13
Posted by Aneta - Lithuania
It provides a lot of useful information that is essential towards pupils' understanding.
Date: 2016.09.13
Posted by Beata Višniak-Bakšienė - Lithuania
This section contains specific information that makes it possible to define the classes' structure, provides future activities and direction.
Date: 2016.08.03
Posted by L. Barrada - Spain
For the e-learning package, I am sure I will use some of the chapters in the near future. I keep them to use them with my own resources.
Date: 2016.07.10
Posted by Palumbo Luana - Italy
This section is very important because it gives all the tools to understand the pupils' needs, the level of their skills, their dreams about a future job. For teachers it is also useful because it offers a series of tests to know and exalt the pupils' potentialities. Teachers can also inform pupils about the concrete possibilities of working and living abroad.
The contents of the package are undoubtedly very useful, because they permit the deep knowledge of all the possibilities offered by the labour market.
In particular the "Job profiles section offers an exhaustive explanation of how the labour market requests new profiles or is modifying the existing ones., Finally it will be important to improve the section of test so students can start to think about their skills and aptitudes

Date: 2016.07.07
Posted by I. Jacquard - France
The contents are really interesting and there are a lot of online resources.
Date: 2016.07.06
Posted by Emanuela Gheorghiu - Romania
The first module Understanding pupils highlights important theoretical psychological aspects which should be considered in order to understand and identify students' personal aptitudes and characteristics; these aspects are useful when personalizing students' education pathway towards the most suitable career and life style for them.
The last chapter strikes a balance between theory and practice by providing teachers and counsellors with best practices, experiences and success stories related to career planning, guidance and counselling.