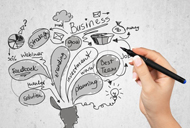 This module focuses on initiatives and training to stimulate entrepreneurship among students, suggesting ideas to train entrepreneurial teachers, presenting entrepreneurial projects carried out in schools and proposing methods to create a network and to find funds.
Innovative Entrepreneurial Experiences at Schools

Chapter 3: Steps to carry out a business project at school
Acquiring Professional and Other Related Skills
Indispensable to the success of a business project, professional skills will increase students' employability and entrepreneurial dynamics.

For instance, when students participate in a "mini-company" or a "Practice enterprise" (both described in the best practices), they learn in a practical way tall the functions of a commercial enterprise and will feel better prepared for their professional integration.

This exercise gives them an understanding of the fundamental economic mechanisms that govern how enterprises work, the relations that enterprises develop with their environment, the essential contributions from the men and women who work in the enterprise, and a realistic vision of the position of head of enterprise, the management tools used, accountancy and financial statements, strategies and processes.

As for the visits to companies and sponsorships associated to the initiative, the get students as close as possible to reality. They enter into contact with passionate professionals who will transmit with conviction such messages as the will to learn, taking initiatives, perseverance, creativity...

Other related skills, such as the command of a foreign language and of digital tools are also emphasised in the best practices:

Command of a foreign language
This ability to communicate in foreign languages is becoming increasingly important for young people. They must be able to evolve, work and learn freely in the whole of Europe.
Be aware that English is fundamental today if you want realize your business. School can provide not only with internal language course, but also sponsoring mobility as summer school abroad, or practical activity exchange in a company abroad.
During a transnational partnership, for example, one needs to be able to communicate with the partner, to write some parts of the project in English.

Digital education
Discovering new technologies and the opportunities they offer in terms of entrepreneurial practices is particularly focused on in the "Digital Agenda for Europe" Programme. Using ICT to create a website, an interactive platform, an e-twinning project, to produce educational videos… has become unavoidable in the creation of an entrepreneurial project.

A teacher participating in the "Jeunes éco-entrepreneurs d'Europe" project (presented in the best practices) confirms: "Enterprise activities can no longer do without information circuits, multiplied by digital media. Thus, a national or European entrepreneurial project requires a knowledge of methods related to the diffusion of information and increases the necessity to train new generations of entrepreneurs to this approach".
Online Resources
Jeunes Eco-Entrepreneurs d'EuropeThis Erasmus+ project aims to study the creation of a European mini-company by European students. It relies on young people's open-mindedness as future builders of their country, future entrepreneurs, future parents, future industrials.


Comments on this section
In order to post a comment it is compulsory to be logged in.
Date: 2016.08.03
Posted by S. Cabrerizo - Spain
The e-learning guide is very useful. Module 4, Innovative Entrepreneurial Experiences at Schools, provides easy examples for teachers.
The negative side is is that there is a lot of information in English, and sometimes it is difficult to follow it if you have an intermediate level of English. Moreover, as a suggestion, I think it could be a good idea to have it in a download version to print the most interesting parts.
Date: 2016.07.07
Posted by Didier Cahour - France
This module is a little bit complex and theoretical. Good practices at the end are relevant.
Date: 2016.07.06
Posted by Gabriela Vrabie - Romania
This module highlights a very important aspect of education: entrepreneurship education in schools, vocational schools and universities, which will definitely have a positive impact on entrepreneurial dynamism in our economies, on young people's employability.
To this end it not only raises teachers and counsellors' awareness about the benefits of enterprise projects but also provides them with invaluable tips on how to implement such enterprise projects at their own school. Teachers and counsellors will find practical advice on the necessary steps in creating an enterprise project at school, how an enterprise works or how to search for funds such as crowdfunding. The module also proposes teachers, educators or guidance counsellors a series of best practices to get inspired from.

Date: 2016.07.05
Posted by Martine Prignon (AEDE-EL) - Belgium
The choice of topics and the study of them provide a valuable source of information to teachers, trainers, counselors...
The best practices and online resources add a useful complement to theory, by presenting concrete examples of experiences, projects, exchanges between peers...